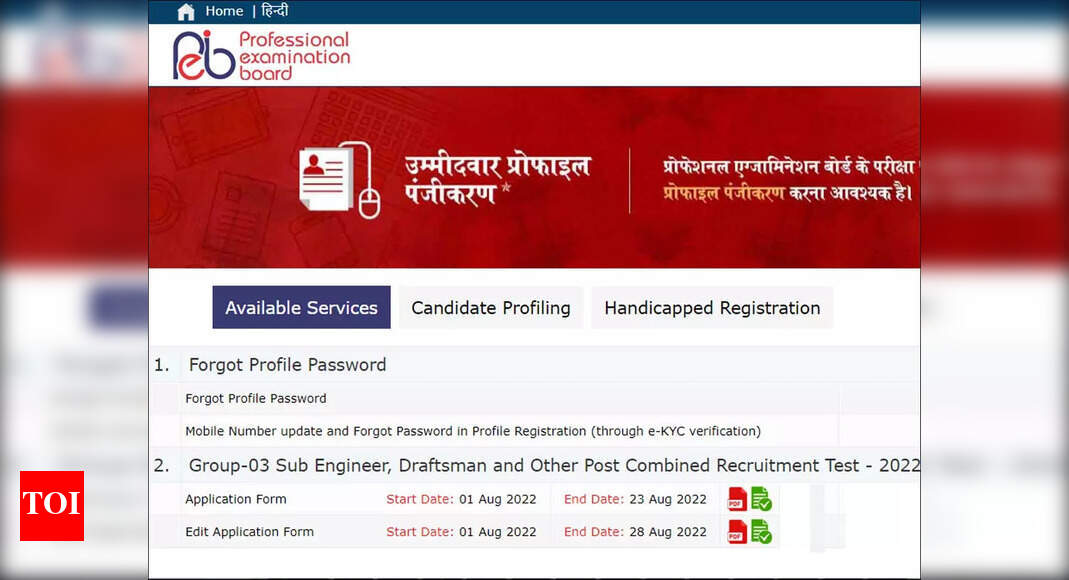 The MPPEB Group 3 2022 application ends today; Apply online for 2557 positions at peb.mp.gov.in
NEW DELHI: Madhya Pradesh Professional Examination Board (MPPEB), will close the application registration process today Group 3 Recruitment 2022 MPPEB recruitment drive is designed to fill a total of 2557 vacancies.
Candidates Who can apply for the Group-03 Assistant Engineer, Draftsman You are strongly advised not to wait until closing hours for the Combined Recruitment Test 2022. The website may become inaccessible.
The deputy engineer of the MPPEB-03 group On April 1, a recruitment notice was published on July 25, 2022. On the day of the recruitment examination on September 24 in two shifts – from 9:00 a.m. to 12:00 p.m. and from 2:30 p.m. to 5:30 p.m.
MPPEB Group 3 Recruitment 2022: Important Dates
MPPEB Group 3 Recruitment 2022: Vacancy Details
MPPEB Group 3 Recruitment 2022: Application Fee
Note: Online payment of application fees is possible via debit/credit cards, internet banking, UPI and other methods.
MPPEB Group 3 Recruitment 2022: Selection Process
The basis of selection will be online exam or written exam MPPEB Group 03 Sub Engineer Recruitment 2022.
How to Apply Online for MPPEB Group 03 Recruitment 2022?
Step 1: Visit the official website of MPPEB – http://peb.mp.gov.in/
Step 2: Click on the Apply link to access the homepage Group-03 Assistant Engineer, Draftsman Other Position Combined Recruitment Test – 2022
Step 3: Create Register and apply for the position by creating a profile
Step 4: Login Use your registered ID to create a password
Step 5: Pay Pay the application fee, then submit your application.
Step 5: Download Complete the request form. Take a copy for future reference.
MPPEB Group 3 Official Notification 2022
Direct Link to Apply for MPPEB Group 3 Recruitment 2022
!(function(f, b, e, v, n, t, s) {
window.TimesApps = window.TimesApps || {};
const { TimesApps } = window;
TimesApps.loadFBEvents = function() {
(function(f, b, e, v, n, t, s) {
if (f.fbq) return;
n = f.fbq = function() {
n.callMethod? n.callMethod(…arguments): n.queue.push(arguments);
};
if (!f._fbq) f._fbq = n;
n.push = n;
n.charged = !0;
n.version = '2.0';
n.tail = [];
t = b.createElement(e);
t.async = !0;
t.src = v;
s = b.getElementsByTagName(e)[0];
s.parentNode.insertBefore(t, s);
})(f, b, e, v, n, t, s);
fbq('init', '593671331875494');
fbq('track', 'PageView');
};
})(
the window,
document,
'script',
'https://connect.facebook.net/en_US/fbevents.js',
);if(typeof window !== 'undefined') {
window.TimesApps = window.TimesApps || {};
const { TimesApps } = window;
TimesApps.loadScriptsOnceAdsReady = () => {
scripts var= [
'https://static.clmbtech.com/ad/commons/js/2658/toi/colombia_v2.js' ,
'https://www.googletagmanager.com/gtag/js?id=AW-877820074',
'https://imasdk.googleapis.com/js/sdkloader/ima3.js',
'https://tvid.in/sdk/loader.js',
'https://timesofindia.indiatimes.com/video_comscore_api/version-3.cms',
'https://timesofindia.indiatimes.com/grxpushnotification_js/minify-1,version-1.cms',
'https://connect.facebook.net/en_US/sdk.js#version=v10.0&xfbml=true',
'https://timesofindia.indiatimes.com/locateservice_js/minify-1,version-14.cms'
];
scripts.forEach(function(url) {
let script = document. createElement('script');
script.type="text/javascript";
if(!false && !false && !false && url.indexOf('colombia_v2')!== -1){
script.src = url;
} else if (!false && !false && !false && url.indexOf('sdkloader')!== -1) {
script.src = url;
} else if (!false && (url.indexOf('tvid.in/sdk') !== -1 || url.indexOf('connect.facebook.net') !== -1)) {
script.src = url;
} else if (url.indexOf('colombia_v2')== -1 && url.indexOf('sdkloader')== -1 && url.indexOf('tvid.in/sdk')== -1 && url.indexOf ('connect.facebook.net') == -1){
script.src = url;
}
script.async = true;
document.body.appendChild(script);
});
}
}
Related